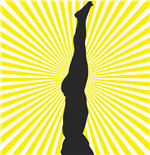 I took my first yoga class when I was 14 years old and loved it. I believe yoga is a fantastic way to exercise and for many people it is a wonderful life style. I have continued to do yoga and live the yogic philosophy of health to this day.
In the clinic I am seeing an increasing number of clients who have gotten injured while doing yoga. I thought it was time to make a few points that will help you enjoy this excellent exercise and avoid possible injuries.
With the current explosion of yoga studios and yoga styles it is wise to shop carefully for the right type of yoga for you. When I first started, my classes had 6-10 people. I have since attended classes with almost 200 students! Most classes have between 20 and 40 students but that is a lot of people for one instructor to watch and guide so more often than not, YOU will need to be aware of your limits and practice accordingly.
Start off easy. I encourage clients new to yoga to stick to basic classes for 6 months or even a year. There is no hurry! You have the rest of your life to perfect your yoga practice and you will find no matter how far you progress there is always more to learn and perfect.
Find a real yoga teacher. A teacher has the depth of knowledge and experience to work from, thus helping to avoid situations that lead to injuries. If you do have an injury, be sure to let the teacher know beforehand as they will be able to modify postures so that you work within YOUR optimal range.
Stay mindful. You are the only one inside of your body so nobody is in a better position to observe what is happening and know when you have reached YOUR limit for today. Mindfulness is a by product of yoga but it is a state of awareness only you can maintain. Don't do a pose just because everyone else is or because you are forcing yourself to. Move into each position carefully and when you feel pain beyond a healthy stretch stop, back off a bit, and reassess.
Maybe you can't do that posture today but with a continued safe practise, postures that seem hard or beyond your limits will become easier.
Stretch before you stretch. In most sports you stretch prior to working out. It may seem funny because yoga is in large part all about stretching but the same rules apply. The postures preformed early in class should be easier and slower so that your body can warm up prior to more challenging or rapid movements.
More is not better. Again yoga injuries are more likely to occur if you are fatigued, emotionally distressed, inattentive, or overly competitive. All of these are actually anti-yoga if you study the early texts on yoga. We live in a culture where more is better and unfortunately that mind-set has found its way into some yoga styles. There is nothing wrong with these more challenging forms of yoga if you are ready for them but I have definitely treated more people with injuries from these types of yoga. If you choose to participate in these more extreme styles of yoga it is especially important that you stay aware of your limitations and work within your level of ability.
Doing difficult yoga everyday is draining so make sure you stay hydrated. Taking a heated yoga class can easily double the amount of water you need. Proper rest and adequate nutrition are also important.
The most common yoga injuries I treat in my practise are to the hamstrings and low back areas. These injuries have often happened when someone has forced themselves too far in a wide legged forward fold or in a back bend. This type of injury can be avoided by moving slowly and keeping the core abdominal area tight. I also see some cervical (neck) injuries from doing headstands improperly or attempting them before developing sufficient strength and flexibility in the shoulders and spine.
Yoga can be a wonderful and nurturing way to get and stay healthy if practiced with wisdom and awareness. If you or someone you know has an injury from doing yoga, come and see me so that I can assess and treat any injuries before they become more serious and cause you more pain than necessary.
"I highly recommend Tony Chadwell for several reasons. I first went to him for an injury in my lower back from hot yoga which he carefully fixed along with some other ailments at the same time. He is a highly skilled professional who applies his extensive knowledge, training and natural healing methods to each session. And as an added bonus, his positive attitude and philosophy are an inspiration." – Jeanette, Poway
Share