The saying "You are what you eat" is a truth many of us do not want to hear. When we eat the correct foods in the right quantity at the right times for our own particular body type, we will feel light, energetic and ready for living life to its fullest.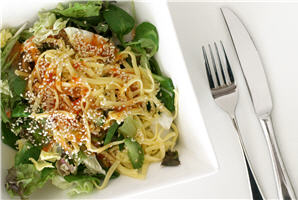 However, due to the complexity of the human body and the amount of conflicting information it can become very confusing to determine exactly what foods to eat or what supplements to take. Just because someone has had success with a particular eating style or diet does not mean it is the right choice for you. The Chadwell Method has over 15 years of clinical nutritionist experience in helping people take the guesswork out of what to eat and determining the exact blueprint for optimal health for your own body.
The Chadwell Method cuts through all of the confusion and helps discover your own path for :
– What foods are beneficial.
– What foods are neutral.
– What foods are depleting
– What vitamins and minerals are needed.
– What enzymes will be useful.
– How much food should be eaten.
– What times meals should be taken.
NO matter whether your easting preferences include vegetarian, vegan, kosher, Zone, Palio, High Protein, Mediterranean or fasting the consultation from Anthony Chadwell, one of the foremost Nutritionists in Solana Beach Nutritionists will make your choices easier and more manageable. Leave our office with a clear plan of precisely what nutrition is right for you and reach your ideal weight, energy and life!
Nutritionists in Solana Beach